Marriage Agency Service for Men from China
Who are Seeking a Charming Russian Wife in Russia or Ukraine
Our international dating site works with the best marriage agencies in Belarus, Latvia, Moldova, Russia and Ukraine. Our selection process is very strict and we refuse cooperation proposals from many agencies. Before we agree to work with an agency, we verify that they have a good reputation and no record of bad activity and scamming. We also verify that they have a scanned copy of the passport of each woman they will display on our site. We also have the telephone number of each woman in case we need to speak with them directly.
While economic relations between China and Russia are constantly expanding and strengthening, an increasing number of business men are traveling to Belarus, Russia, Ukraine and other CIS countries. And as most men in this world do, Chinese men are not indifferent to the charm and the natural beauty of Russian women. This is certainly part of the reason why more and more men from China are seeking a Russian wife.
What are Chinese Men are Seeking in a Wife?
And What do Russian Women Seek in a Man? Is There a Match?
Nowadays, there are not so many stereotypes as there used to be. It is not like "Russian women are such type of women" or "Chinese men are such husbands" etc. With the help of the internet, social medias and all medias, people from any country are aware of what is happening on the rest of the planet and they are broadening their knowledge and expectations of life in general. However, some things don't change so drastically and the fact remains that a typical Russian woman values family life more than a personal career and a typical Chinese man also highly values family life. And, as mentioned previously, most men can hardly resist the charm, intellect and natural beauty of Russian or Ukrainian women.
What do Russian women appreciate and don't appreciate from a husband? They expect him to be the leader of the family, to have a good job and to provide for all the essentials and more. What they don't appreciate and cannot tolerate is a man who sleeps around and drinks too much. As a piece of advice, if you have either one of these vices, don't waste your time trying to find a Russian wife because if even if you succeed, your marriage will not last long. Smart Chinese men, and so are the majority of them, are aware of this: they are one woman men and they control their drinking. And, most of them who go to Russia for business are wealthy or have at least enough to provide the essentials and more. These were a few facts that make it so Russian women and Chinese men can be a good match.
My name is Zoya. I'm 36 years old.
I am single and live in Zaporozhye, Ukraine.


I am Tatiyana from Vinnitsa, Ukraine.
I'm 29 years old, single and seeking a partner.


Are you looking for a beautiful 30 years old girl from Grodno? It is me!
My name is Darya and I'm looking for my second half.

Why are business men from China Seeking a Wife from Russia
While There are so Many Available Charming Women in China?
Chinese men who are fit, healthy and successful in business share a trait that is common to those who are in a similar position in any country: they like to have a wife who is intelligent, beautiful looking, charming, family oriented, loyal and younger than they are. A typical Russian woman offers this and more. She also has no problem living with a man who is 10-15 years older, sometimes even more. Although there are plenty of available very charming ladies in China, many complain that successful business men are looking for younger spouses – as described in this interesting article.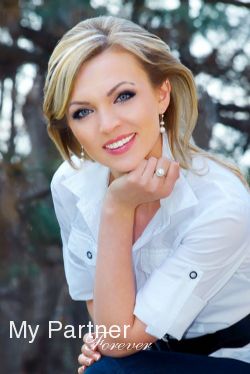 Another factor that may contribute to encourage affluent Chinese men to seek a Russian wife is the One-child policy that prevails in China – as foreigners are exempt from the policy. One factor is for sure: Russian and Ukrainian women attract men from China and from all over the world. They are intelligent, feminine, family oriented and absolutely gorgeous. Many are looking for the kind of man they unfortunately have great difficulty to find in the homeland: a man who is a good leader, who is a good worker with a steady job, a man who is family oriented and finally but not last, a man who is loyal, faithful and does not drink or drinks socially. If you feel you are one of these men and you feel attracted to Russian and Ukrainian women, why not give it a good try and who knows, it may be a step leading you at finding your charming Russian or Ukrainian wife!