Tips and Advice on Planning a Meeting with a Russian Woman
How to be Well Prepared for the Meeting
Crucial step towards finding your charming Russian bride is planning a face to face meeting with a lady in Eastern Europe. You may fly to Russia, go knock on the door of a marriage agency and ask the staff to organize you a meeting with a lady you will select from their online profiles or their printed catalog. However, how successful can such a meeting be? You are not secure from being scammed, moreover you can lose your precious time and money.
Follow our advice and introduce yourself to the lady by sending her a letter. She will write you back if she likes your profile and your letter, and you can then further evaluate the possible connection between you two. You know about each other by exchanging letters and if it's going well, you meet on Skype. Then, the next step is the time to plan a face to face meeting with her.
You must admit that the best way to understand if there is true chemistry between you two is meeting in person. It cannot replace exchanging letters or meeting on Skype; these have their limits. Our recommendation is not to overdo the "virtual" relationship and meet in person sooner than later.
Think about the dates when you are available to travel. You should do it before you start selecting ladies who match your criteria and begin correspondence. Perfectly, your meeting in person should be within 6 months, in 2 or 3 months is the best. Keep in mind that it's important that your lady will know that you are available to meet her. Otherwise, your plans to meet in 6 or more months can have an adverse effect on your relationship and she may lose interest.
How to Behave on a Meeting with Russian or Ukrainian Woman
What to Do and What Topics are Better to Avoid
Plan your time for travelling before starting the relationship with a Russian lady as we mentioned above, it will help you to do the next step and plan a face to face meeting. It is not obligatory to write 100 letters or meet in dozens of Skypes to decide if a personal meeting should take place. Your true desire to see the lady in person will show that you are serious about her and it will keep her interest high towards you.
Tips and advice about your meeting:
Take time to have a good rest after a long flight. Be calm and fresh at the meeting, you will have more luck.


Don't drink alcohol, even a glass of wine with lunch or dinner can spoil everything. Notice that a man who has a drinking problem is the last thing a Russian or Ukrainian woman wants in her life. Here is an interesting article about the difficulty for many Russian and Ukrainian women to find a life partner in their own country.


Make her a small present. It can be a nice perfume at a duty free shop in the airport. It does not have to be much.


Talk about the type of person you are, what woman you are looking for rather than about your assets or toys.


Let her talk about herself and ask you questions, make jokes to feel more comfortable.


Avoid talking about your ex, except if you have joint custody of your children. Don't ask her too much about her ex. The only thing you should say is that you are single, looking for a wife and legally able to marry. She should do the same.


It`s nice to start conversation on light topics however try to find out if you could be a couple. Don't waste time and don't hesitate to discuss important subjects such as family, children, job, friends, hobbies etc.


Pay the bill even if you will not meet again. Probably a walk, a coffee, a drink or a light bite will do the job better than a big meal on a first meeting as it may take some attention from the main purpose of being together.


If you have a desire to meet the lady again like later on the same day, if it is lunch or tomorrow, tell her about that, and take the lead. Russian women like men who can make decisions.
Successful or Unsuccessful Meeting
What is Important for Both Parties to Have a Good Experience
Any travelling to Russia or Ukraine will cost money and take time. You can go to meet the one you have been corresponding with however we advise you to establish relationships with a few Russian ladies and plan to meet them all. It will be more costly but not that much more and it will increase your chances of finding your future wife. You may choose ladies from the same city or neighboring cities depending on your budget and availability.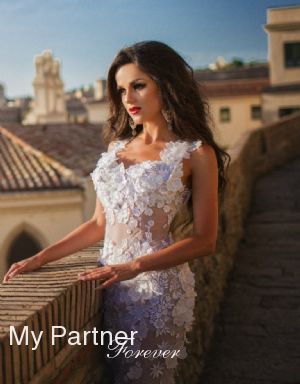 Keep in mind that the meeting may also show that you and the lady are not a good enough match to keep developing a relationship. She may not be the kind of lady you are looking for and / or vice versa. It is ok as "everything happens for a reason". Be prepared for this and remember that our agency owners are experienced matchmakers. They may help you and arrange a meeting with the Russian or Ukraine lady who may be a good match.
Whether the meeting was successful or not, the main thing is that you and the Russian or Ukrainian lady can have a pleasant meeting and share a rewarding experience. You both had hopes that you could find your second halves and were excited about finally meeting face to face. Anyway, you both gave it your best shot and have no regrets.