Quality Dating Site and Marriage Agency Service
For Men from Egypt who are Looking for a Russian Wife
Our dating site and matchmaking service is the most honest and efficient service for men who are looking for a wife in Belarus, Moldova, Russia or the Ukraine. We work with the best marriage agencies and each agency owner is an experimented and reliable person. Despite the bad reputation that some sites and agencies give to the Russian brides business, the fact remains that, because of the lack of available men in their own country, there are tens of thousands of single and sincere women who are looking abroad for a suitable life partner. There are also very honest and serious agencies helping them and these are the agencies we work with.
It is not a secret that there is a shortage of single men in these countries and it is also not a secret that many of these single men have a tendency to drink a lot and to not be faithful to their spouses. This is not quite what Russian women are looking for in a life partner. At the opposite, they wish to be part of a normal couple where the husband is a strong leader who is committed to the family and of course, who is faithful to his spouse. This is why so many single women from these countries look for a husband from abroad and the best way to do it is to register with their local marriage agency who helps them in many ways, including the usage of their computers, services of interpreters and of course, the screening of potential husbands, thus eliminating those who are not seriously seeking a wife.
Dating with Women Locally or in Russia
What are the Main Differences and what to Focus on
Either you are dating a woman locally or in Russia, the basic principles are the same: you need to be polite, respectful, sincere and open-minded. However, when dating with a woman who is in Eastern Europe, there are many aspects that are quite different than dating a woman locally. First, it is not like you can get in the car and drive an hour or so to meet her. Unless you are near these countries, chances are that you will need to board and airplane to get there. Secondly, there is the language barrier. Although many Russians speak English or other languages such as German or French to name a few, the majority speak only Russian while knowing some English. Also, not everybody has high speed internet at home and if they do, it can be costly, especially for a single woman who has only one income to pay the bills.
This, in part, explains why single women prefer to register with their local marriage agency. Their employees help them with all these aspects: they help them with computers, internet, translators etc. Also, when the clients go to meet them, their agency help them with airport pick-up, apartment, translators etc. The agency usually organizes the first meeting to take place at their offices or in a public place such as a restaurant. Since no-one knows the outcome of a first meeting, this is to the advantage of both parties. If the meeting is positive, then the man and woman can ask the agency to keep helping them with the services of a translator or, of course, they can go on their own. If the first meeting does not turn out to be positive, it is then easier for both parties to go their way and the agency will do their best to match the client with one of their ladies and they are usually quite good at that since they are experienced and good matchmakers.
Are you looking for a beautiful 26 years old girl from Kiev? It is me!
My name is Mariya and I'm looking for my second half.


My name is Viktoriya. I'm 28 years old.
I am single and live in Grodno, Belarus.


I am Nataliya from Zaporozhye, Ukraine.
I'm 34 years old, single and seeking a partner.

What Makes Russian Women so Attractive?
How can They be such Beautiful Brides and Charming Wives?
There are beautiful brides and charming wives in each country of this world. Russian women are no exception and actually, for those men who seek a bride in Russia, they certainly offer something different. Russian women are generally fit, slim and quite attractive, not to say stunning. They eat healthy, go to the gym regularly and walk a lot. They like to look beautiful every day, not just for the special occasion. They do their nails and their hairstyle regularly. They dress in a quite elegant way with high heels and beautiful clothes daily. If you have been to Belarus, Moldova, Russia or Ukraine, you know exactly what we mean, if not, you will be amazed on your first visit.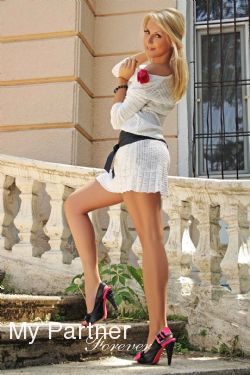 Beyond the exterior beauty, Russian women are certainly quite beautiful inside as well. They still believe in the old traditional family values. They wish to get married and stay married with the same man till the end. Of course, they are not stupid and will not put up with a husband who does not treat them properly but on the other hand, they will not seek a divorce as soon as things don't go perfectly anymore. They have the reputation to treat their family as the most precious and they will fight to keep it together and healthy. They know that many men from countries of the west think the same way as they do toward the family life and this is what makes this Russian brides phenomenon.