Well-Established Dating and Matchmaking Agency
For Men from New Zealand Seeking a Russian or Ukrainian Wife
Our well-established dating and matchmaking agency offers men from New Zealand a true opportunity to get in contact with single Russian women who are looking for a life partner from abroad. Because of demographic and social factors, thousands of single women from Russia, the Ukraine and other CIS countries are using their local marriage agency service in order to broaden their search of a husband to different regions of the planet.
As in most countries of the "west", many single men living in New Zealand have difficulty to find a life partner with traditional family values. The phenomenon of women wanting to establish their career and financial independency before creating a family is wide spread in countries of the west and is present in New Zealand as well. Of course, there is nothing wrong with this but given that there is also the phenomenon of more and more men wanting to prioritize the family over work, it leaves many single men with great difficulty to find such a life partner as well.
Why are Russian and Ukrainian Girls Seeking a Husband Abroad?
What Qualities are they Looking for in a Life Partner?
It is not uncommon to hear that Russian girls who are looking for a husband from abroad are simply seeking a way in a country with a better standard of living. There are certainly such cases and this is a fact for people from any country. There are people for who money and luxury are more important than anything else and such people are in all countries of the world, Russia not being an exception. However, Russia is not exactly a poor country, quite the opposite, and Russian women have far better reasons to seek a foreign husband; the main one being the lack of available men, given that there are approximately 10 million more women than men in Russia and former USSR.
A typical Russian or Ukrainian girl is family oriented and dreams of finding a husband and creating a family at her early adult life. In Russia, the Ukraine and other CIS countries, it is not uncommon to see couples having children at their late teens or early twenties. However, it is also not uncommon to see many of these couples divorce in the following years. The sad thing is that a majority of these men will not keep up with their parental responsibility, thus leaving the mother alone, or with her own parents, to raise the child. Russian women know that many men from countries of the west are exactly the opposite, that in fact; they are the ones who are spending the more time at raising the children. This is part of what attracts Russian women to men from New Zealand, the fact that they will able to share a family life where both parents share all the responsibility of having a family.
I am Irina from Bobruysk, Belarus.
I'm 41 years old, divorced and seeking a partner.


Are you looking for a beautiful 41 years old girl from Minsk? It is me!
My name is Tatiyana and I'm looking for my second half.


My name is Lyudmila. I'm 35 years old.
I am single and live in Vinnitsa, Ukraine.

What to do and NOT to do when Dating Russian Women
How to Succeed at Finding a Charming Bride from Russia
Dating with Russian women is, of course, very similar in many ways as dating with women from any race or any country. You need to be humble, sincere and respectful. You also need to discuss serious points such as children, work, each other's expectation of a life partner, in which direction you wish to go in the future etc. However, if you are in New Zealand and the woman you are dating with, or at this point, let's say corresponding with, is in Russia or in Ukraine, you are sharing a virtual relationship and it will remain such until you travel to meet her. This definitely brings another dimension to the whole process.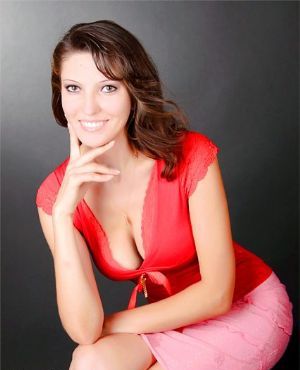 Since the trip to Russia is not exactly cheap, it is a good idea to be both best prepared for the first meeting. It is advisable to begin exchanging ideas and opinions on general aspects of life. Then, with each letter, take the occasion to ask more personal questions. Remember that "personal questions" is within the limit of what two persons who never met each other should respect. For sure, we recommend to never asking questions about intimacy. Unless you have a medical issue that you feel you should make her aware of, simply avoid this subject. As the saying goes, there is a place and time for everything and you are certainly not yet at the time and place to discuss this. Another point to pay attention to is to not fall in love over letters. Although it may sound obvious to certain people, it may not be so easy control for others. We all want to fall in love and this is why we are here, but again, it is not yet the time and place. Expressing feelings of love can only create unfounded expectations and put unnecessary pressure on each other.
A good way to add a sense of reality to your relationship is to meet on Skype. All you need is a computer with a webcam and a good internet connection. You can then talk and look at each other at the same time. However, you need to remember that letters and Skype meetings have their limits as well and once you have exchanged on the main topics, you need to move on to a next step which is to meet in person. Our recommendation is to not over delay the meeting in person. It could only make it so a relationship that was promising could slowly but surely fade away. You need to be face to face and look into each other's eyes to really feel the chemistry. Our dating and matchmaking service, with the help of our precious local marriage agency partners, will assist you in every step to ensure that you travel in peace of mind and concentrate on making that first meeting with your future Russian bride a success!