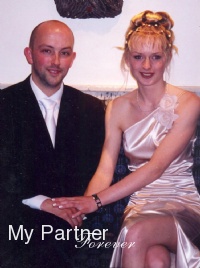 Our story is common and unique at the same time. We have met at the marriage agency in Grodno. But it was very unexpected for Nataliya because she has become a member of the marriage agency at the same day when me had come to Grodno. Nataliya came to the agency office with her mother and her mother asked the employees of the agency not to find a right man for her daughter very quickly because Nataliya was a student of the University. Her mother wanted that she would has got her University diploma first. However, Nataliya's destiny had to say in a different way. Nataliya was the member of the agency only for 22 days. She has been registered at the agency on the 2-th of September but 23- of September she left Belarus forever. We are happy to say : " Thank you for our successful meeting, to make it work! We are very happy together".
2/17/2010
Maya (Grodno, Belarus)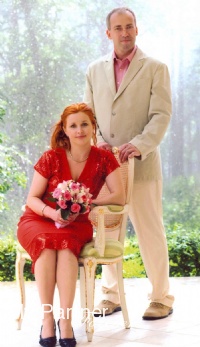 Klaus and Inna Shmidt brought the wedding picture as a symbol of thanks for happiness of being together, thanks to the agency for help. Klaus were hesitating to go in his search of the life partner through the agency during long time. He called, think, called again… he didn't believe that he can find a woman who will love not only him, but his 6 y.o. daughter. He realized all responsibility for this step. Life went on and on… and after couple of month he still was in the position when nothing is happening in his life. So he decided be more persistent. He needs a wife, partner… his daughter needs care and love too. She needs the example of full and lovely family to follow up in her life. Grodno is the town where he got a chance for love and happiness. He took this fortune and he found his lovely woman, the caring mother for his daughter. Now they are living together in Germany with two more lovely boys.
10/8/2009
Maya (Grodno, Belarus)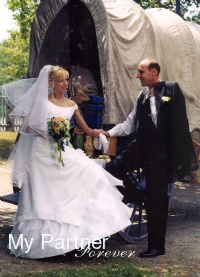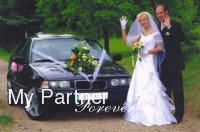 People use to say, that marriages take place in the sky, but it begins with the agency… Anna and Bernard are married for 5 years and they are happier than ever about their decision to have joined their lives. Anna and Bernard`s history is usual and unusual at the same time. Bernard has arrived to the agency in the spring of 2004. After reviewing photos and biodata of particulars he has not chose Anna. Everything was as usually. After several meetings at the agency's office, girls came and left, and heart of our groom was silent. Where is my unique woman of which so long way is done? – Bernard thought. And at this time Anna has decided to bring in agency her new photos. She was the member of agency during few years. There were meetings, there were trips, but all somehow did not develop. We have spread out on the table new photos and began to select the best. At this time Bernard,s last meeting has ended and he has jumped out in to reception where we sat with Аnna. She has lifted a head, has looked at him and our Bernard was dumbfounded. Heart was hammered more strongly and the miracle has come to pass. He has no more doubts, that she is the woman of his dream, that he found his second half. However, it was necessary to convince of it Anna. But like we can see Bernard can manage and the young happy family was born. Аnna perfectly adapted in France. Of course in the beginning it was difficult. Anna in fact studied German and was adjusted on marriage with German speaking man. However trifles and they have been successfully overcome by all this in due course. Now Anna perfectly speaks French and even works at the French school where teaches children decorative creativity.
8/18/2009
Maya (Grodno, Belarus)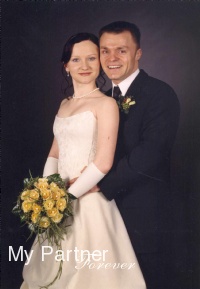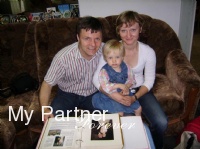 Dear Maya and agency! We would like to say thank you for your help! Our dreams became true: we had found each other, we are in love, we had created a happy and harmonious family and now we are experiencing parental feelings! Our daughter speaks German and Russian. Elena perfectly adapted in Germany, confirmed her teacher`s diploma mathematics and will soon be able to begin a professional career. She is wonderful mother, loving wife and… also a professional educator. We are happy to come to Belarus and visit your agency. You gave us the happiness! Sincerely, Thomas and Elena
8/7/2009
Maya (Grodno, Belarus)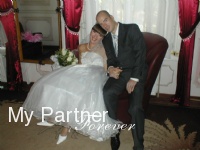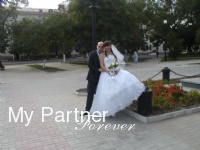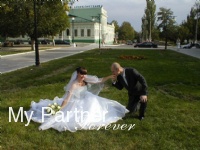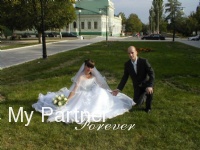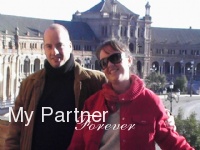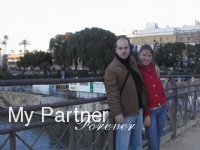 Dear Irina, I decided to write you a letter from the wonderful Spain where I and my husband Kristobal are very happy together and send our photographs to your prestigious introduction service. As you know I wanted to find the man of my dreams. I received many letters from gentlemen of different countries. Then one day I received a letter that was simple but interesting and very special. It arrived in spring 2006. When I was reading the letter I was captured by it very much and, of course, I wrote back very quickly. He was a young man and only some years older than me who was shy and never married. He liked me very much in my photos but he was afraid about the future. You helped me very much that told him about me a little more. The days passed and finally, I received a letter from him again. It was friendly and sincere, and there were photos as well. I felt that he would be more than a friend. It was a day in early summer. When he wrote that he will come soon, I was very excited and it was one problem with the language. He did not know English well, me too. So, I did all my best to learn something necessary to communicate tête-à-tête, and I bought dictionary to decide the language problem when it is necessary. Frankly speaking I should say that I was worrying very much about the language and how everything will work. And I went to Odessa to meet him myself. After some hours of speaking to each other we already felt that we could be a nice match. Kristobal is shy and me is very active, so, I helped him to adapt in Ukraine to get the best impressions about my country and me, of course (joke). And he asked me that he cannot see another girls since he saw my photos in the site and he asked if I wanted to be his wife. Of course, I said "yes" eyes to eyes. About a month after we began writing and calling to each other discussing things about our future, he sent me a special letter filled with love and hope too and forms for making documents. Then he came another time in the middle of October and we were busy with our preparing for our wedding. From day to day we saw that our decision was right. We had a wedding according our Ukrainian traditions. During very little time I already studied Spanish with a private teacher and could translate everything they said at the ceremony to Kristobal and what he should do. It was a little funny but he acted like a real gentleman and none could see that he understood nothing. We had a real nice ceremony but we did not want to do the party at the restaurant. It was my wish first and Kristobal agreed with me. We had a small party at home with my relatives. Irina, thank you very much that you left all your things and came to my wedding ceremony. I consider you as the best friend. I believed that our love is now a reality. I will always remember that day with my white beautiful dress, flowers, Valz of Mendelson and my loved man who became the most important person in my life. So, that is my story about HIM and how he came to my house to see me and hold me in his arms and get to know me that I am the only one and especial person in his life. The days passed quickly after our wedding which happened on the 20th of October, 2006, like the wink of an eye. He returned to his country and already in a month and a half I went to him. I believed God sent Kristobal to me. It was the first marriage for us both. Irina, I am so happy and I am so grateful that you brought us together. You are great! His parents, relatives and sisters love me very much. I took his traditions and taught them our's too. Kristobal showed me his country and we had a great time already as a happy couple. But life is life. I went to school to study Spanish better. I did not imagine my life without working though his relatives think that it is not necessary for me to go to work but Kristobal was not against it. So, after finishing courses Kristobal helped me to find a job at nice hotels on the Reception (I did the same in my country). So, our life goes well. We work both and we do not quarrel about this or that. I send you some photos from Spain. When I am in Kherson I shall call you and visit you. I want to see you again and express my gratitude to you in real.
11/10/2008
Irina (Kherson, Ukraine)