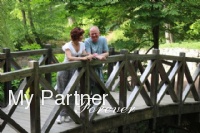 Dear Alain, I am writing to share my experience with you regarding my recent visit to the Ukraine. I met the most genuine and honest woman all thanks to your site, after almost six months of letters I decided to visit the Ukraine and try to move the relationship forward in the most honourable sense. I travelled independently and found my way to her home town. There I was met at the bus station by a representative of the agency and safely transferred to my hotel. I arranged to have the services of a translator for much of my visit and was very impressed by the professionalism, dedication and expertise of the service provided. Without her help, communication would have been difficult, it is true the service was not cheap and you do need to budget carefully but she helped not only with the language but cultural differences also. Any of you men out there thinking 'should I' do it! Life is too short, the service is first class, the staff are first class and the results might change your life forever! Alain, just a short piece to recommend your staff in Uman, Inna has been so dedicated and speedy in translating our letters, she really does go above and beyond, I really cannot praise her enough. Anna, who acted as our translator, was excellent in every sense, she was both friendly and reliable, a real credit to your business and has turned into a friend. Finally Nadia was invaluable in arranging the practical side of things and very helpful and friendly. All your team were wonderful representatives of your business and deserve special thanks and praise. Very best wishes, Harry.
5/22/2018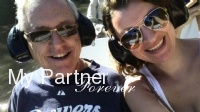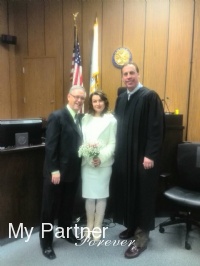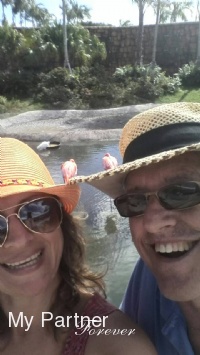 This is a follow up note in regards to the services I received working with My Partner Forever site. I was married for 22 years and in 2012 went through a divorce. I dated several women around the area but nothing seemed to fit what I was searching for. I decided to take a completely different approach to meeting someone (a worldwide search) and I joined My Partner Forever site. At first, meeting someone to correspond with did not happen right away. I was not just looking for anyone. I was searching for someone who had similar interests and a person with a set of values whom I could respect and possibly be happy with in the future as well as a physical attraction. After several months of intro letters, I received a special letter from a very interesting lady...one of great beauty and outstanding character and from that point on we started to communicate. At first it was only letters (back and forth we would write) and then personal email was the next step after a couple of months. It took time for our understanding of each other to evolve. Translation was an issue throughout but the company helped out with this so each of us understood what the other persons thoughts were and were laid out with no confusion. Messages back and forth happened quickly and smoothly. There was a certain degree of excitement as well as mystery each time we would communicate. I decided that I needed to meet this person who I was finding myself getting serious with so I decided to Skype with the help of the services offered. Except for the time difference, ( 8 hours) it was an enjoyable experience but the minutes seemed to go by so quickly. It was after 5 months of using My Partner Forever site that I decided I had to meet this woman in person. I traveled to Ukraine for a week. I used the services offered of a translator from the company to help with my communication. It was a huge relief to know what I was saying was being interpreted exactly the way I was speaking it. There were small cultural differences that occurred during my travel that the translator pointed out to me also which was a big help and made things easier. Things progressed smoothly during this trip and I left knowing that this was not the end of a new relationship but just the beginning. We continued to speak back and forth and our thoughts grew more serious. I had to see this woman again to be sure. I traveled back a second time several months later and at the time met family and asked her the very serious question. She said YES. After several more months of paperwork, she traveled to the U.S. For her to give up her job, miss her family, leave most personal belongings behind and travel 7000 miles to meet me....told me her commitment to our relationship. I knew she was as serious about this as I was. A month of being together and very happy, we made the decision to marry. Now we have been together as husband and wife almost 6 months. Things are great. We have merged 2 cultures into one. It is a learning curve for both. She is my best friend. She is studying English with a literacy council tutor and the improvement is fantastic. She is driven to be successful. We have worked through all of the paperwork and now are hoping to receive a green card in the near future. Life is good! Without the services of My Partner Forever site, I would have never met this incredible lady and who knows what my life would be like. Thanks for your help in being able to meet the woman of my dreams. Sincerely, DAVE PEARCE
7/7/2017
Hello Alain… Just thought I would update you on my trip to visit Elena in Ukraine. With the help of the translator Nadia we had a very great meeting. She is wonderful and everything I have been searching for. Nadia was patient and did a great job helping bridge the language gap between us. At the end of my time there, I asked Elena if in fact she wanted to come to the U.S. and she said yes! I have since contacted Lolly and Associates and am now trying to deal with the paperwork which goes with U.S. Immigration. Kiev was a fantastic city to visit. We saw many sites and the food was unbelievable. I hope this grows into my final first date. Thanks for your help in assisting me in finding this wonderful woman. Dave
7/13/2016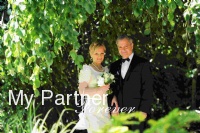 Anna and me, we want thank the team of the website and agency for your help and your serious work. I live near a big city in eastern region of France, and without you, it was not possible for me to meet Anna, in Kiev. Now we are married from beginning of June and a new happy life made with love and understanding, is our new life. We wish the same happiness for all the other future couples. Anna and Jean-Marie
7/23/2015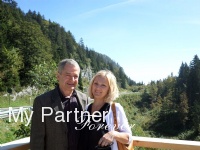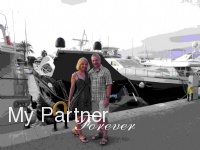 Hello. My name is Jean-Marie, I am from little town in the eastern of France, And I want to thank my destiny for such a gift as Anna, who I met on this website. We both complete each other. She is my joy and happiness, and I want to spend the rest of our lives together. Also my thanks to workers of agency who were so kind to help me in arranging our meeting. Wish all other do not give up in their search and be patient. It is rewarded.
1/6/2015